self-9282
This is a long post for you, but I hope you'll find it worth the read! Getting mothers in front of the camera instead of behind it is often not just a challenge for a photographer hired to capture family moments, but it's also a challenge - an intense internal struggle - that many mothers fight within themselves, whether it's for a professional photo shoot or simply handing the camera (or camera phone) over to another person during family time. I know, because I'm one of those mothers. I'm one of those women.
self-9292
It's with this in mind, and heavy on my heart, that I'm starting a new campaign focused on capturing the beauty of mothers from all ages, generations and stages of life. I'm calling it #CaptureMomBeauty and I'm donating a portion of my revenue from this campaign to a cause that is extremely important to me, and it will stay within our community. I'll give more details of that below.
Since beginning my portrait photo business, capturing mothers with their children has always been a focus of mine, but it was really driven home to me when I experienced the loss of my best girlfriend, my kindred spirit, to a sudden illness in March 2013. Before the service started where we said goodbye to her, a slideshow was playing full of photos of beautiful Ashley with her children, her husband, her family and friends, and by herself. As I looked at those photos with tears streaming from my eyes, I was struck over and over again with how blessed her children are that they had these wonderful memories of themselves with their mother, captured forever so they could look at them anytime. They had photos of her beautiful self to look at and remember that smile and those eyes that were so full of love for them.
I vowed to myself that very day that a renewed focus and energy would be put into my portrait sessions to capture intimate moments of love between mothers and their children, and that I would no longer try to avoid the camera so much when someone was taking photos of me and my family. I've been trying to take more photos of myself on purpose, as well. The hard part of this is that for as long as I can remember in my adulthood, I've preferred to be behind the camera rather than in the photos. I've always found something wrong with the way I look in photos - at any given time I'm unhappy with either my hair, face, smile, weight, makeup, clothes or a combination of all of them. I'm determined to stop this, but it's a constant battle within myself. It's not easy to break that thinking, but for the sake of my children, I'm going to have more photos for them of both myself and of them with me.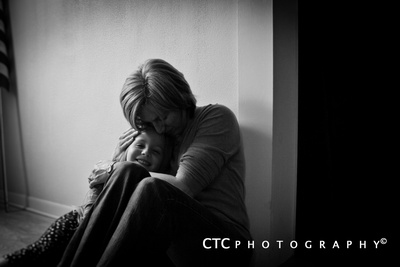 self-9273
self-9285
Why not fathers, as well, you may ask? I love capturing both parents, alone and together, with their children. I'm happy to do so and it makes me happy to do so. However, it's generally not as difficult to convince fathers to get photos of themselves. They generally don't have the deep-set thinking that women do about how they look. If you don't believe me, then you probably haven't already seen this beautiful video that has been circulating for months: http://realbeautysketches.dove.us/
I love taking photos of entire families and of each of the parents with their children, but this campaign is about the mothers.
In the fall, I was blessed with financial assistance for my business from Royal Neighbors of America's Nation of Neighbors program. A family member had nominated me for the program, and I was extremely surprised, humbled and grateful to find out that I was a recipient. This assistance enabled me to upgrade some of my photography equipment and gave me some much-needed confidence and the means to pursue some of my goals and dreams - some that I've had for a long time.
One of the goals I've had is to help women and couples who have experienced infant loss. My husband and I lost our first child in a second trimester loss in December 2001 - a devastating, life-changing loss. When I left the hospital after a traumatic and lengthy labor followed by a D&C, we left with a few consoling words from hospital staff, prayers and condolences of friends and family, and a stack of official, cold medical papers referring to the death of our baby as "spontaneous abortion." (I do realize this is the official medical term for losses like the one I experienced, but it is a term that is startling to see describe your loss when you are going through this trauma.)
At that time, there was very little help in the form of books written on the subject of infant loss, and pamphlets or brochures available for doctors or hospitals to give women going through this loss were few and far between. I wrote a book about my experiences of loss and subsequent pregnancy after loss that I have plans to publish, and I want to donate some copies to women's clinics and hospitals after it is. Until then, I have been wanting to provide our local hospital with some brochures that are now available for bulk purchase about infant loss and grieving, along with some kind of memento, a validation, of the life that was lost, that can be given to mothers and fathers grieving the loss of their sweet baby. I haven't been certain of how to go about doing this, or how I would want to go about doing this, until recently.
When I discovered I was a Nation of Neighbors recipient, I began thinking of how I could pay it forward to our community, and at the same time tie together my desire to capture mothers' beauty along with a way to give these materials to our hospital. I knew I wanted to honor Ashley in all of this, and as I won't be able to give her a birthday present on February 18 this year, I wanted to time the launch of this campaign close to her birthday. Ashley was the mother of four beautiful young children on earth, but she also has a baby in heaven and we often talked of ways that communities needed more outreach in the area of infant loss.
In my planning for this campaign, I've talked with the hospital and have learned that they now provide parents who have lost babies in both early and late-term pregnancies, and still birth or newborn, with beautiful remembrance boxes that provide ways for parents to validate and preserve the memory of that cherished life. It overjoyed me to hear they now provide this service and gift! They have agreed to include the brochures I have wanted to provide along with the boxes, so I am happy to still be able to do this project so long on my heart. These brochures are written for parents grieving in infant loss and provide information on this specific type of grief and the feelings that are commonly felt, and ways that may help to cope with it.
**So, here are the details of what I'm doing: I am offering #CaptureMomBeauty mini sessions from February 28 to April 28 and the proceeds after expenses will go to the purchase of infant loss memorabilia for donation to Big Bend Regional Medical Center, where it can be given to families experiencing infant loss. I am putting 100% of the proceeds after expenses from the session fees to this purchase, as well as 25% of the proceeds from print purchases from these #CaptureMomBeauty sessions.
These mini sessions are concentrating on capturing mothers with their families, and/or alone. Because the focus of these sessions will be on the mother, I won't be taking photos of the children without their mothers in these sessions. However, if you want to get photos of your children by themselves in addition to photos with their mother, you can schedule a standard session which lasts longer, and I will donate $20 of the session fee to this cause. If anyone wants to donate an amount above their session cost, 100% of that donation will go to this cause as well.
The mini sessions will cost $50 and will include two 5x7 prints of your choosing (additional prints available for purchase from your gallery) and an online proofing album for 15 days. Mini sessions will last approximately 20-30 minutes.
In order to meet the very minimum amount I'd like to have for purchase of these donated goods, my goal is to have 10 of these sessions, so PLEASE spread the word! I would LOVE to have multi-generational photos (mom, grandmother, great-grandmother ...) captured, as well!**
So that you know I'm also challenging myself in all this, the photos you see within this post are photos I took over the summer during a self-portrait photo challenge I participated in. I was exhausted when I did these, the light was poor and my camera settings weren't ideal as a result, but I was determined to go through with it and so I set the camera on a tripod and set the timer. I took photos of me by myself, as well as photos with my daughters. I needed to take this first step making a concentrated effort to be happy in front of the camera instead of behind it.
self-9291
self-9263
I felt very awkward and silly doing them, and felt even more self-conscious when I shared them on Facebook for all my friends and family to see. But I did it, because I wanted to inspire and challenge those who saw them to do the same, and get in front of the camera and capture themselves for their children, whether it was by hiring me or another photographer to do so, or grabbing their own camera and doing it. I want YOU to be inspired and get in those photos with your family.
And you know what? I blew up the photos of me with my girls and they are now framed and proudly displayed in our home. And I even printed a couple of the photos of me by myself for smaller frames. I have since forced myself to not hide every time a camera is pulled out that I'm not behind, and I'm trying to make an effort to make more captured moments.
self-9257
As one of my favorite photographers, Sue Bryce, says, "Don't wait till you are perfect ... You will never be perfect ... You must exist in photographs for your children."
And I'll add to Sue's lovely thoughts that to your children, you probably are perfect. If you aren't, they still love you just the way you are, right here and right now. Let them have those memories of you right here, right now, captured forever.
Contact Me Today to Schedule Your #CaptureMomBeauty Mini Session!
(432) 386-3104 ** [email protected]
Edit this post to update on the results of this campaign! Thank you so much to all of you who participated! Keep getting IN FRONT of the lens! On December 10, 2014: My thanks to all of you who helped make today's delivery possible ... Thirteen years ago today, we lost our first baby to an early second trimester loss after a long and traumatic labor. We walked out of the hospital with nothing more than medical papers full of cold terminology and the condolences of staff. Today, without planning for it to happen on the anniversary of our loss but the arranged time and day happening that way by no coincidence, I walked into the hospital with a box full of support materials on infant loss and handed them over to a nurse who cares deeply for parents suffering this tragedy. The purchase of the materials was made possible through my clients and the Capture Mom Beauty photography campaign I had run earlier in the year, and the hospital has assured me they will add the materials to the lovely memento boxes they now provide to these families. As the campaign tied together a project long and deep in my heart and the loss of my dear friend Ashley last March, I suddenly became emotional as I made the delivery. In a perfect world, families wouldn't need those boxes and materials, but I'm grateful it finally all came together to be able to give them. Thank you, from the bottom of my heart, to all you clients who participated in helping make this possible!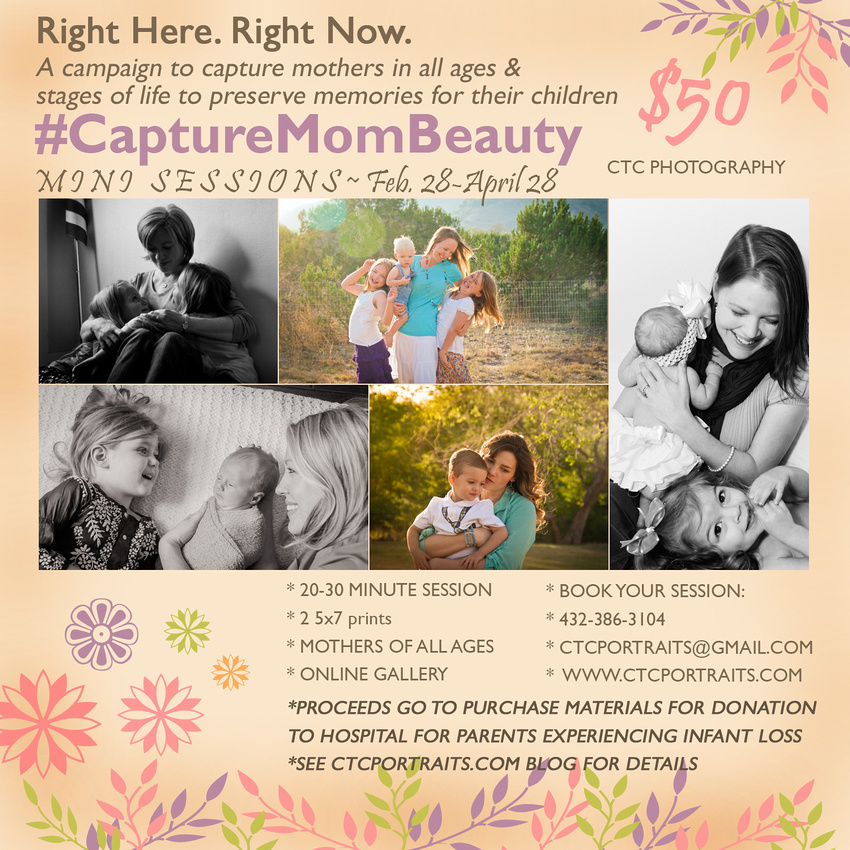 MOMBEAUTY