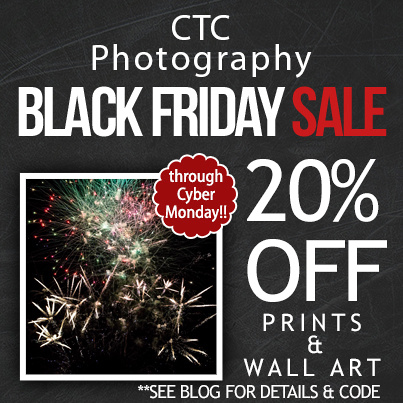 I hope you all had a WONDERFUL Thanksgiving filled with good food and great memories with loved ones!

Black Friday is here and once again I am offering a sale - all the way through Small Business Saturday and Cyber Monday! :)

ALL prints and showcase category items (canvas, vivid metals, acrylics, fine art prints etc.) that are NOT custom orders or digitals are 20% off (until midnight Monday)! Custom orders and digitals are not eligible.

I've reopened all 2019 client galleries that previously expired (they will expire again at midnight on Monday), and this sale is also good for all CTC Photography landscape, animal etc. photos that are eligible for sale! Wall art for Christmas? A new piece for your office? You might just find something you like here!

This discount is only good through midnight Monday, so hurry! :) The coupon code, to be used in the first box at checkout, is: 20OFF2019.

Also, if you have any print credit that you were previously notified of from previous orders, those gift certificate codes can be applied for double savings, because these are in gift certificate codes that are put in a different box. Put that in the last box, during payment options, at checkout.

I hope you all have a great weekend! Thank you so much for being a part of the CTC Photography family! :)