Larry Robinson Photography Studios
Larry RobinsonMy great-grandfather, Larry Robinson, founder of Larry Robinson Studios
Larry CartoonA cartoon of my great-grandfather, Larry Robinson, that depicted him in his photography element. My mother says he would pass this out to advertise his business.
The legacy of Larry Robinson and his studios has been a part of CTC Photography from the beginning, and – thanks to Google - over the years I have had more and more people contact me wanting more information about the history of my great-grandfather's studio chains, as well as wanting to know if there is any way I can help them with finding old family photos or copies of photos in their possession.
In updating my "About" page recently, I thought it was time to dedicate more information to the story behind Larry's studios for those who have history with them.
I have been around cameras for as long as I can remember, and a large portion of that is due to a great-grandfather I never met. My great-grandfather, Larry Robinson, started a portrait photography business that ended up being one of the premier portrait photography studio chains in the south. Larry Robinson's studio served families throughout Louisiana, Texas, Arkansas and Mississippi. At one time they also had studios in Oklahoma, Missouri and even Illinois.
Larry got his beginnings in photography from his father - an Oklahoma butcher who ran his hand through the meat saw and lost four fingers. (Sorry for the graphic information, but it's true!) In the early 1900s, trying to find a way to feed his family, he took up photography. He and his family developed their negatives on the dining room table and at first were wondering why they turned out all black - which is how they learned the room must be dark so they began developing at night.
As only black and white film was available, my great-great-grandmother started learning and perfecting the art of painting the photographs by hand.
When my great-grandfather Larry married my great-grandmother, he traveled from town to town taking photos of children on the backs of ponies. He eventually progressed to having full studios – known as Larry Robinson Studio - in towns throughout many states. My great-grandmother Rose learned the art of painting the photographs by hand from her mother-in-law.
My grandfather, along with his brother, followed their father's footsteps in the photography business and running the family business. My grandfather started working in the studio in Shreveport, Louisiana when he was 12 years old. The man on top of the Larry Robinson photography plane in the photo is my grandfather. My aunt gave me a copy of this photo several years ago and I have it hanging in my home. (This photo is an integral part of my decision to open my own portrait photography business, as you can read below.)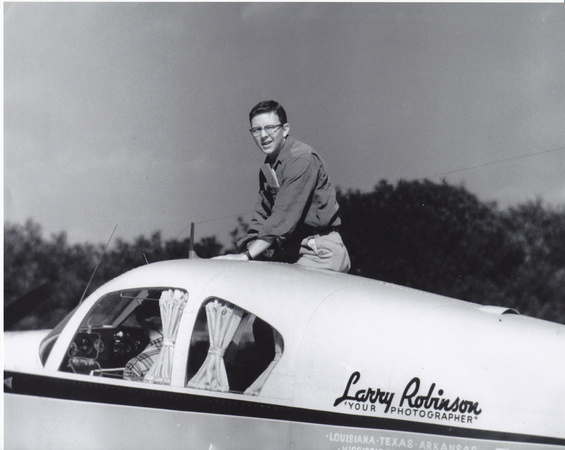 larryrobinsonplaneMy grandfather with the Larry Robinson Studio plane. His brother was the pilot.
The colored photograph on this page is my grandfather, grandmother and my mother, and this photo is colored by hand to, in my opinion, a perfection that the studios were known for. You can see the Larry Robinson Studio gold stamp in the lower right corner.
robinson familyMy grandfather, grandmother and mother, while my grandfather was still working in the Larry Robinson Studios, This is a hand-colored photograph, and you can see the gold Larry Robinson studio stamp in the lower right corner.
My grandfather has told me he learned and did most jobs at the studios: photography; developing negatives; making proofs; checking in orders from the studios; printing and developing in the darkroom; checking the quality of printing; washing and drying prints; doing sepia work; sending the work back to the studios; bookkeeping; check writing; checking the progress of the studios; traveling in the summers to relieve photographers for vacation; selling; bank deposits; running the laboratory. He never learned to retouch or "hand oil," though, and says he wishes he had.
The studio in Shreveport began in about 1937, upstairs in a building on Milam Street. Larry later moved the studio downstairs in a storefront as it became more successful, and the processing lab was connected to the back of the portrait studio. By 1956, there were 26 studios in several states, but all the processing was done in Shreveport. The last job that my grandfather had was as the plant manager. By his estimation, they turned out about one million prints per year at that point. In 1960, after he had started a family of his own, my grandfather left for law school and his brother and mother continued to run the business. The family later sold the stock to the company and all the studios.
My mother has many memories of the darkroom as a child, and says seeing the photos in their chemical baths always reminded her of the duck pond at the fair. There were still a few of the studios around when I was a child, including the one in Baton Rouge where we lived at the time, and I have memories of going there.
While I was focusing on print journalism in college (graduating to become a newspaper reporter, now freelancing on very rare occasion), I also became more enamored with the bigger cameras and the technical side of photography. I enjoyed rolling and developing my own film, and processing my own photos in the superb darkroom we had at the university. It was a relaxing place to be when things got crazy, and a rewarding place to be when you saw your photos go from film to sharp images hanging to dry, and being responsible for it each step of the way.
As photography has changed over the years, I began to fall away from the lifestyle of darkrooms and turned to the convenience of point and shoots when I became a mother. With the help of a friend and long-time mentor, I started getting back into photography several years ago.
I thought hard about starting a portrait photography business for a while before voicing my thoughts to anyone else. One day as I was mulling over this decision after thinking and praying about it and wondering if it was something I was supposed to do, I suddenly looked up into my hallway and saw this photo of my grandfather hanging there. It all clicked at that moment and I wondered why I hadn't thought of it before. Portrait photography is, in a way, part of my heritage. CTC Photography is bringing it back into the family.
While I no longer smell processing chemicals and go through a rotating door to reach the darkroom, tools are available to process photos on the computer. One thing that hasn't changed from the days of my family's old business to the business I have now, though, is dedication to quality. Larry Robinson Studios used the best archival quality materials that were available at the time, and I strive for the same.
The importance of photography hits home to me all over again when I get messages like this one I received from someone who found me through a "Larry Robinson Studio" search recently – someone I was thankfully able to help: "Thank you so much for sending the release form. You made my day. My mother died on Christmas day two years ago. There is the one photo of myself and 3 [other studio] photos that are over 50 years old too. These were mom's favorite photos. We thought they were lost. I am giving my brothers and sister the new photos for Christmas."
I hear story after story about people googling his studio name in desperation of finding help with a precious family heirloom - a photograph. A photograph taken decades, generations, ago. In a few (but unfortunately not all) cases, I am able to help. I am SO humbled and grateful when I can. (If you found this page from a similar search, see below the answers from my FAQ page on whether I may be able to help you.)
In the age of digital convenience, I can't stress enough how important it is to have your photos printed with archival quality photo paper (and ink) for future generations. Your photographer - and you if you purchase digital negatives - should only do business with labs that do so. Your family will be so grateful one day that only the best was used, when they are able to have copies made. And if you just have the digitals but never print them, it's all too easy to think you'll do it "one day" but "one day" passes into years and your family never sees those photos. I know, because I have been guilty of it myself. And the quality of digital files can diminish over time if proper care – and even sometimes with – is not taken in their storage.
I'm honored to carry on the tradition of portrait photography that has sustained through generations!
If you are reading this page with the hope that I can help you with old family photos from Larry Robinson Studios, here are a couple of questions I am asked most often:
*Do you have access to old or original prints or negatives taken by Larry Robinson Studios?
No, unfortunately I don't. I have been asked this many times by people all over the United States since I put my connection to my great-grandfather on my About page. I have tried many times to track down what happened to the old negatives in various locations after the studios were sold to new owners, but I have not been successful. It's my hope that they may be in archives somewhere. If you have any information that might be helpful in this search, please let me know.
*I want to have copies made of an original Larry Robinson Studios portrait I have in my possession, but the printer says they need permission.
If your photograph is from one of the studios once started and owned by my family, please contact me with the details of the photo (year, location) and I may be able to help you. The best way to do this is to contact me through email.